Water Towers of Glasgow
They are one of the most familiar sites as you drive into Glasgow, whether from the east of the west, but the concrete water towers on the skyline of the city are slowly vanishing. I have used this as an excuse to run around a few of those still standing, and try to document all the ones I can think of in and around Glasgow.


It's hard not to think of War of the Worlds by HG Wells when you see these towers
Looking like alien spaceships, arrived in suburbia from
Planet Brutalism
, these concrete towers are often much loved local landmarks, despite the less clean lines they now have with the mobile phone masts that they have almost universally sprouted. In and around Glasgow most of the water towers were built to provide reliable supplies to the post-war housing estates that were built in the 1950s. They are filled with water from
Loch Katrine
, pumped up to a height that lets gravity feed the local houses with reliably pressurised water supplies. They are increasingly being replaced by underground reservoirs, so I have tried to get a few quick photographs of some of those still standing in 2019. If I have missed any, then please add them to the comments below
HMS Thunder Child being destroyed by a water tower
Barloch, Milngavie
As part of the Victorian Loch Katrine waterworks project to supply Glasgow with clean water in the 1850s, the
Milngavie water treatment works
at
Mugdock
were constructed at a cost to the city at that time of almost £2 million. Three reservoirs hold water from Loch Katrine, which is filtered and chlorinated and then piped down to Glasgow.
Milngavie Water Treatment Works
The Barloch area of Milngavie has the nearest water tower I could find to Mugdock Reservoir (it is literally a couple of hundred yards away). Standing atop a hill, on the appropriately named Tower Place. Built in 1959 it is not the largest one around but has the nice feature of a children's playpark at the foot of it, perfect for brainwashing your toddlers into connecting happiness with concrete brutalism.


Tower Place, Barloch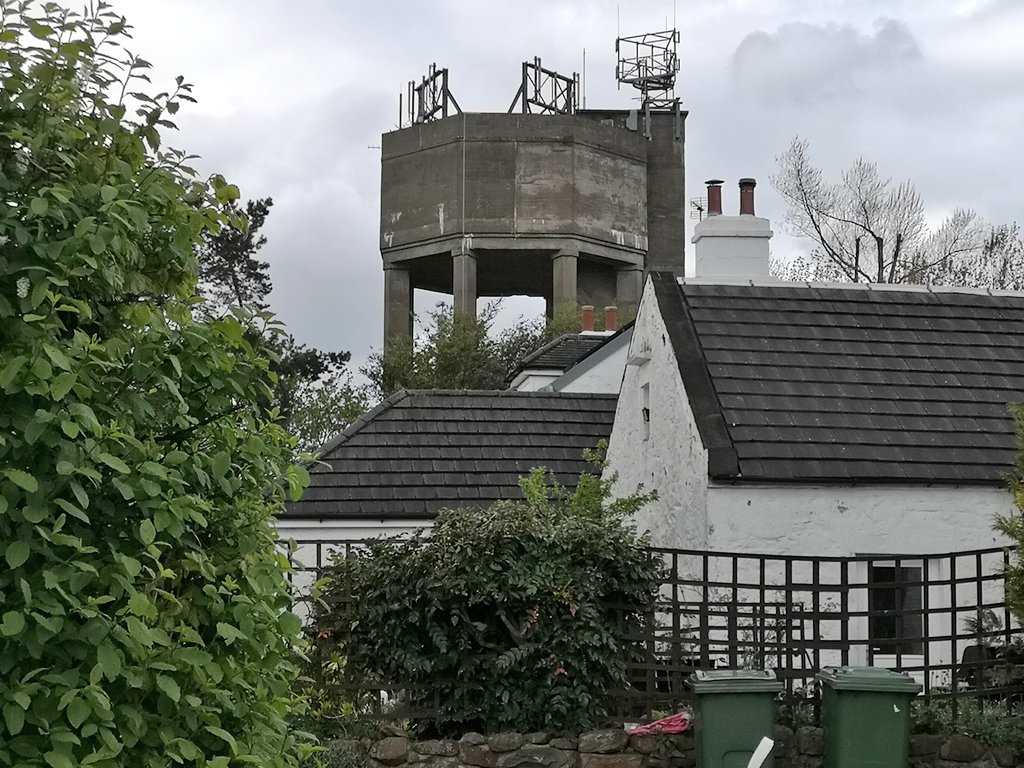 Barloch water tower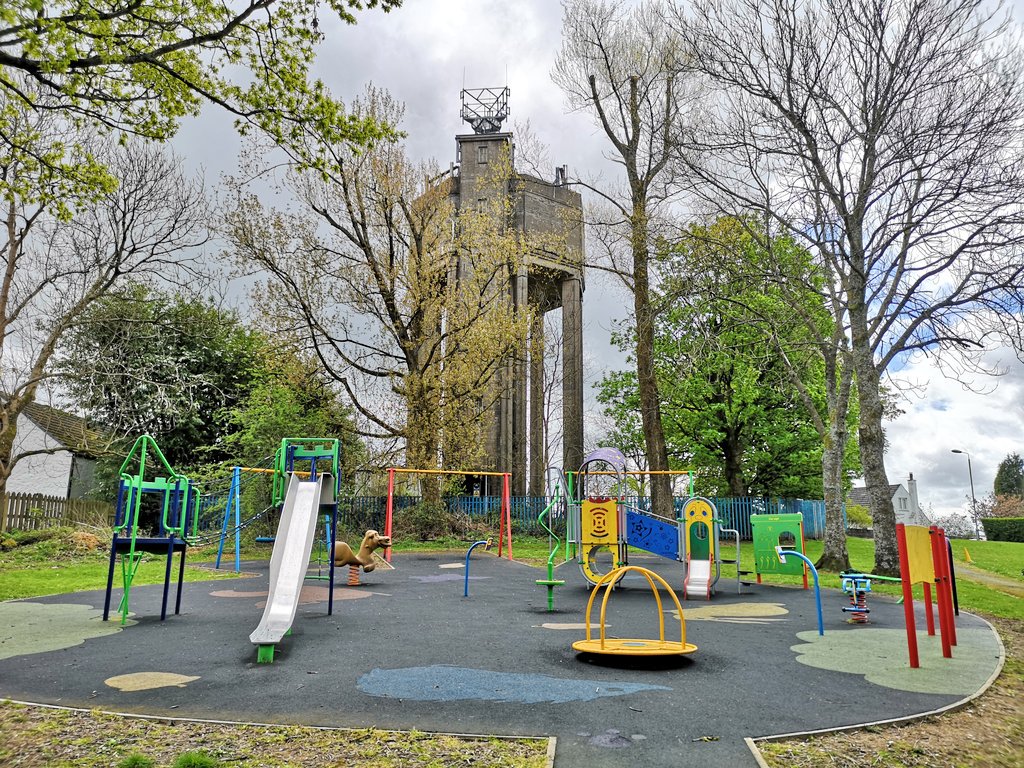 Barloch water tower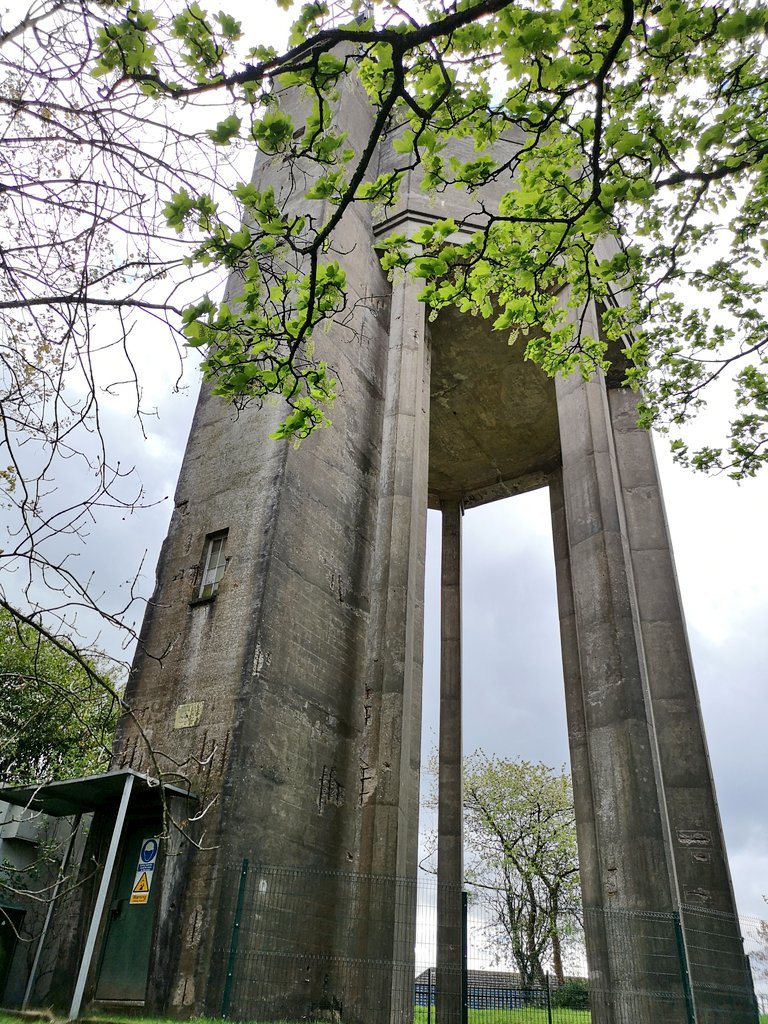 Barloch water tower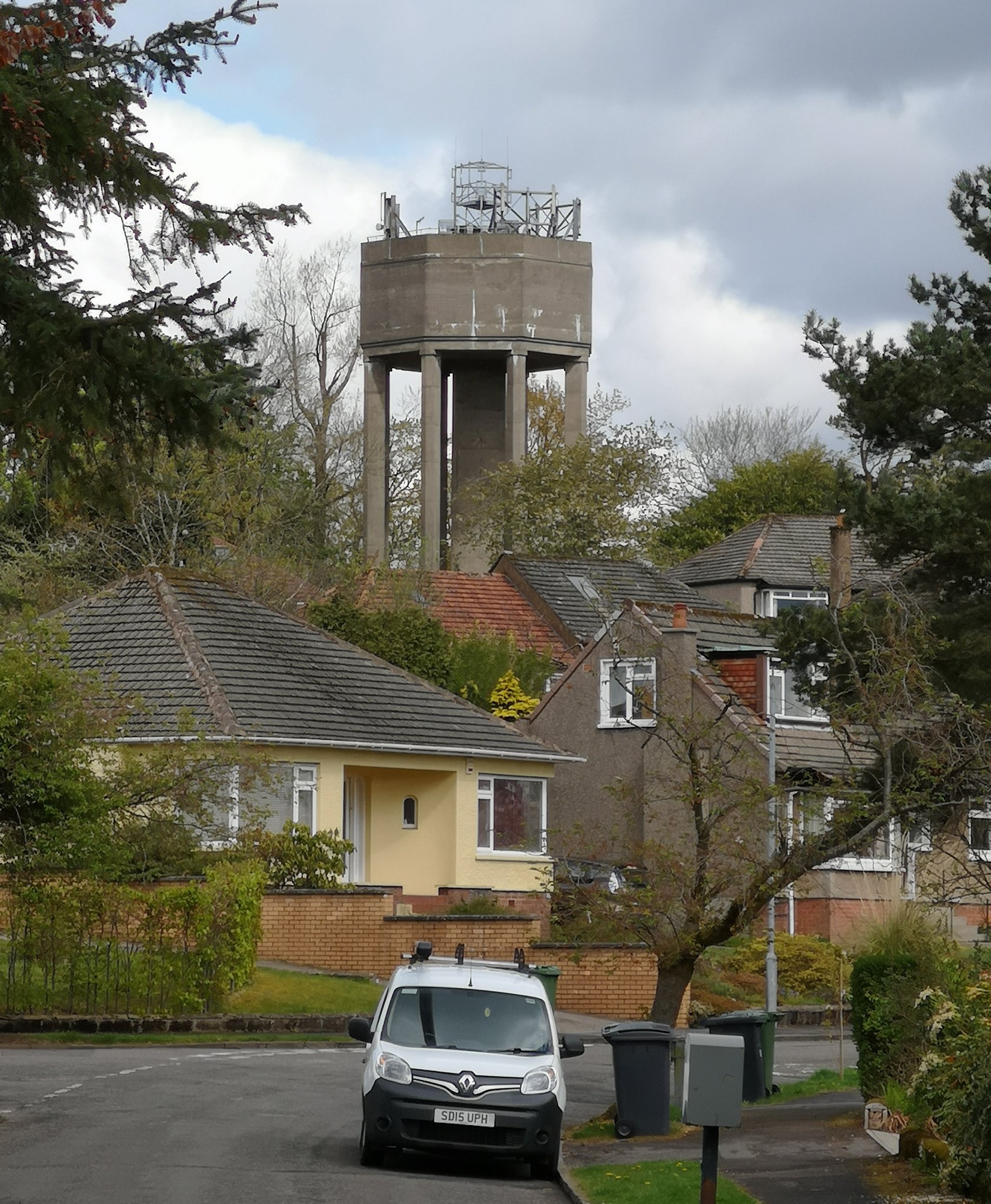 Leafy suburbia and concrete functionality
Old Glasgow hospital water towers
I have previously written about the
old hospital buildings of Glasgow
, many of which are being demolished as the health board modernises its facilities. Often when a hospital is flattened the only part which is listed as architecturally significant, is the old water tower and on many instances these are standing long after the surrounding hospital has vanished. When building a complex of Victorian hospital wards an elevated water tower appears to have been essential to ensuring a reliable water supply to the various units. Here are a few of those still standing at Leverndale Hospital, Ruchill Hospital and Stobhill.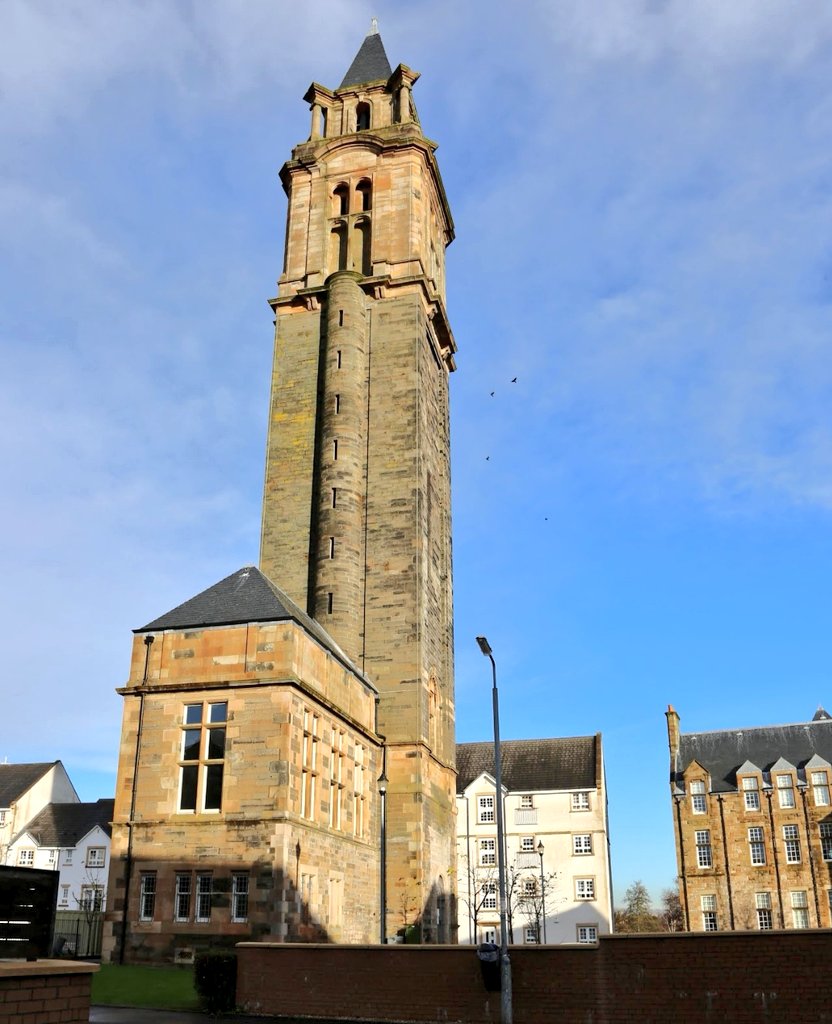 Leverndale Hospital water tower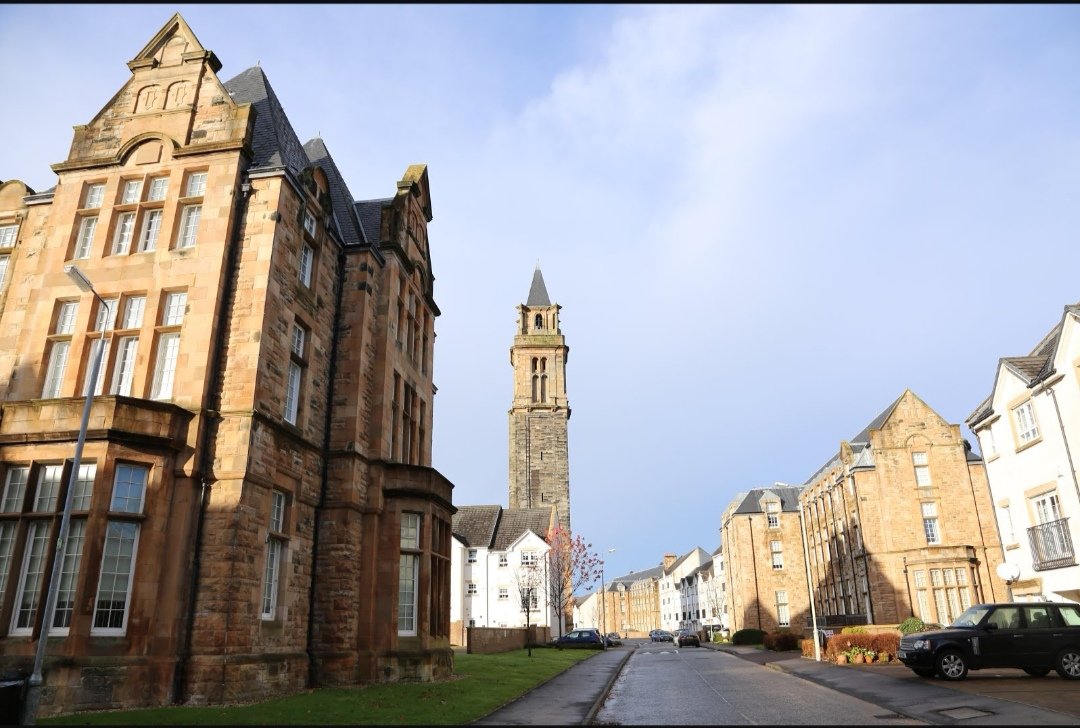 Leverndale Hospital water tower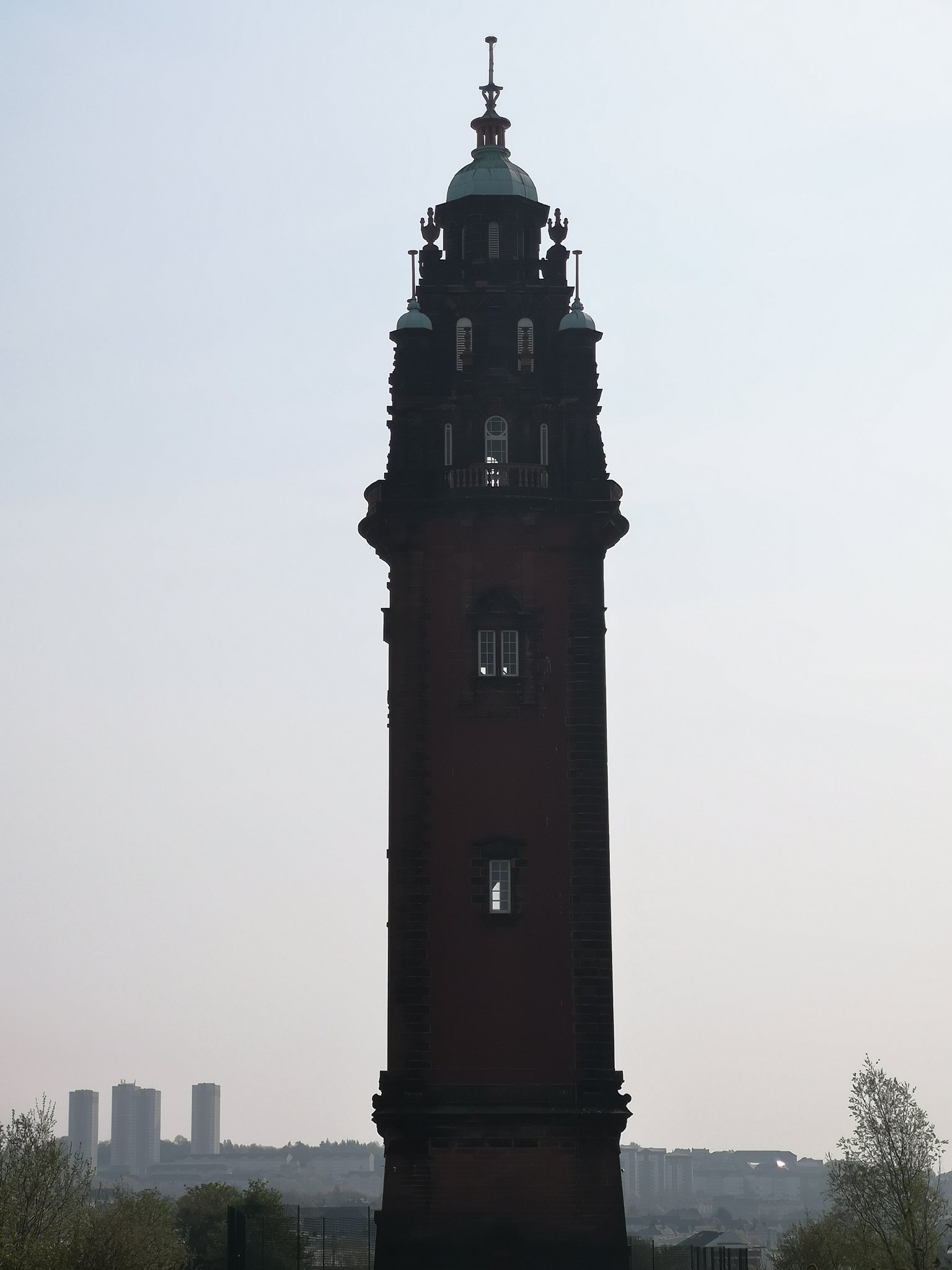 Ruchill Hospital water tower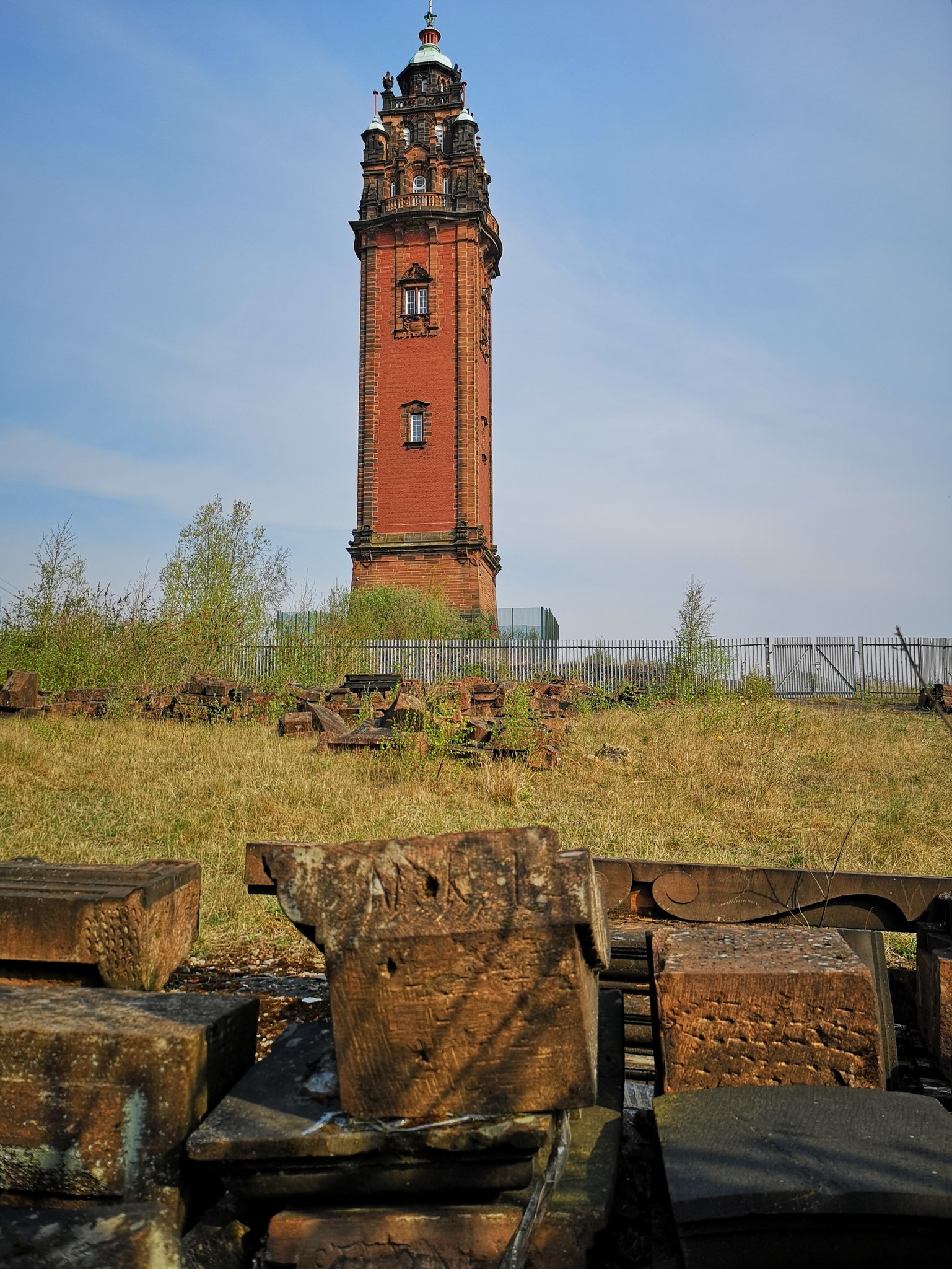 The beautiful Ruchill Hospital water tower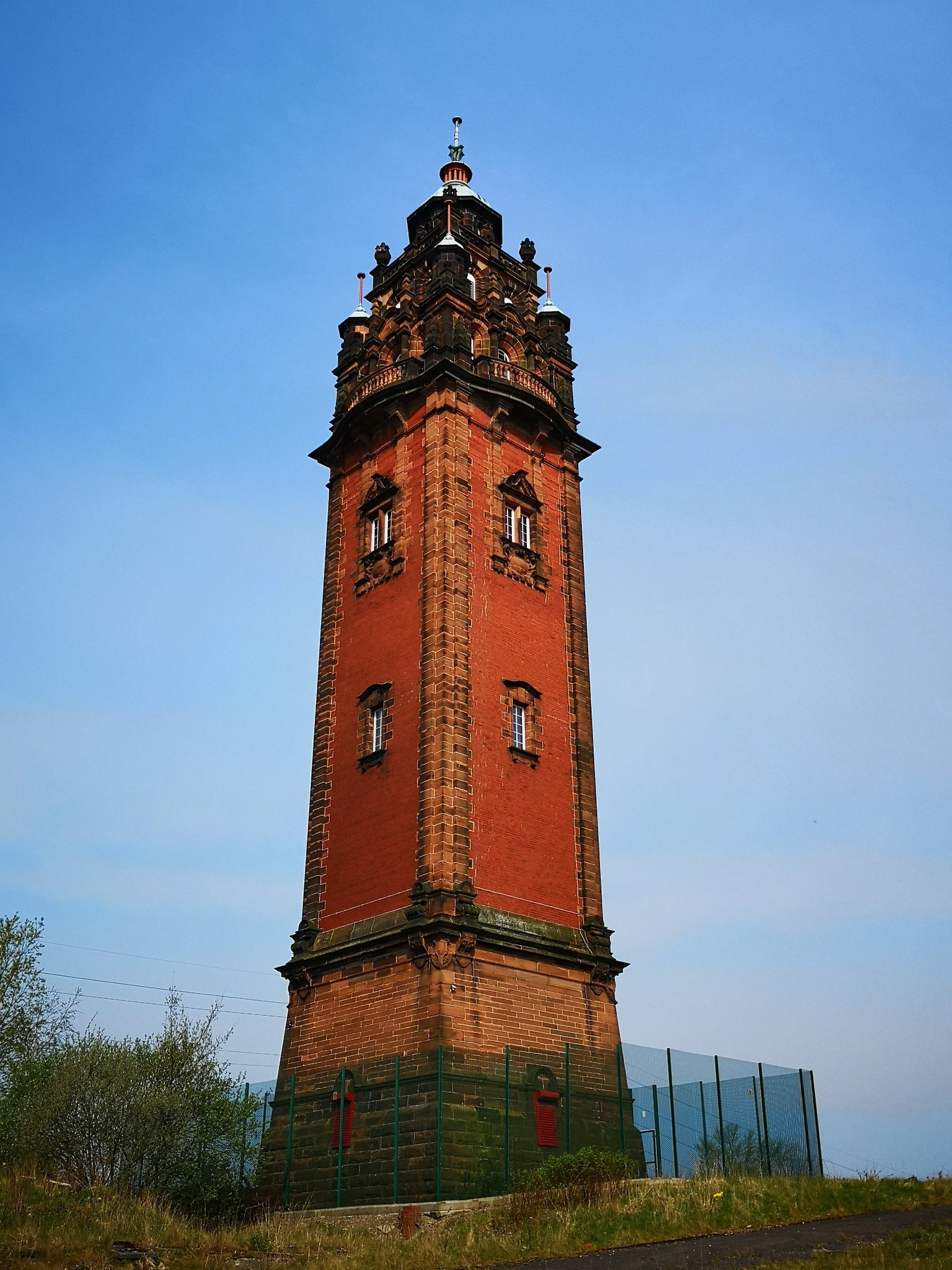 Ruchill Hospital water tower. The land surrounding it awaits re-development
Stobhill Hospital water tower, which has a clock built into it

Cranhill Water Tower
Cranhill water tower, at the junction of Stepps Road and Bellrock Road, was built in 1951 by
F.A. MacDonald and partners
, elevated to provide water pressure to supply the nearby council estate when it was built. It is unusual now among the city water towers because it is square in shape. It's other oddity is that it has a collection of sculptures at the foot of it.
Andy Scott
designed the six figures at the base of the water tower, with Poseidon, the Greek god of the sea, three sirens and a mermaid accompanied by a fish with a ring in its mouth from the
Glasgow coat of arms
.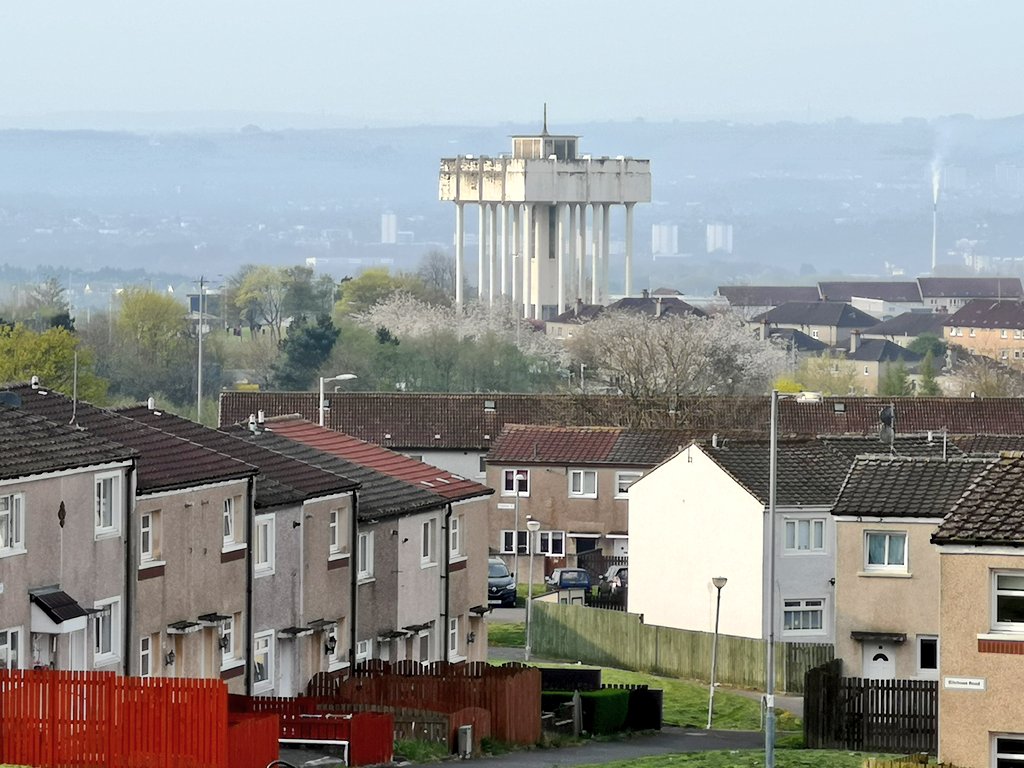 Cranhill water tower, Glasgow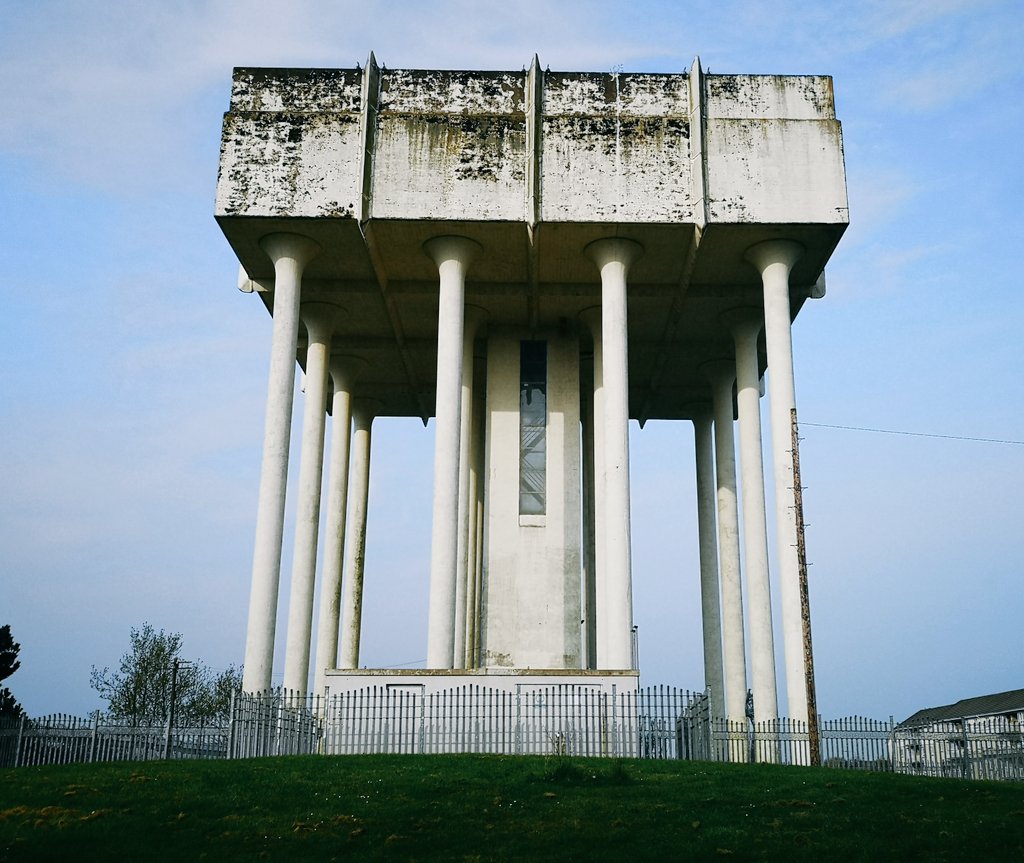 Cranhill water tower, Glasgow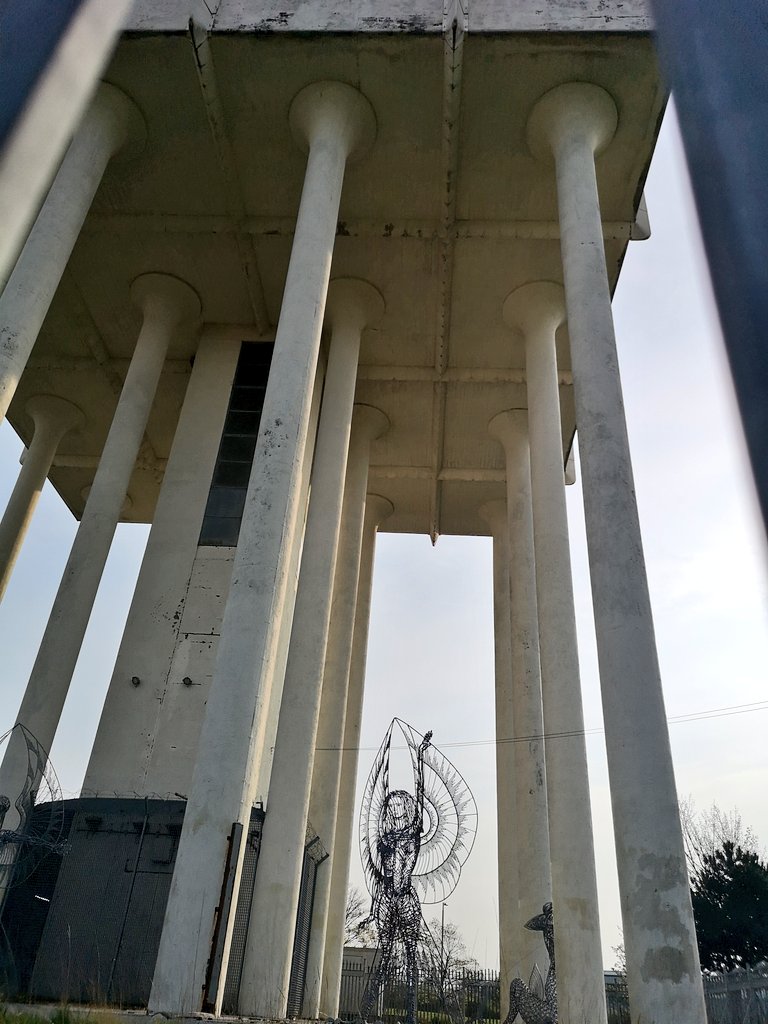 Sculpture at Cranhill water tower, Glasgow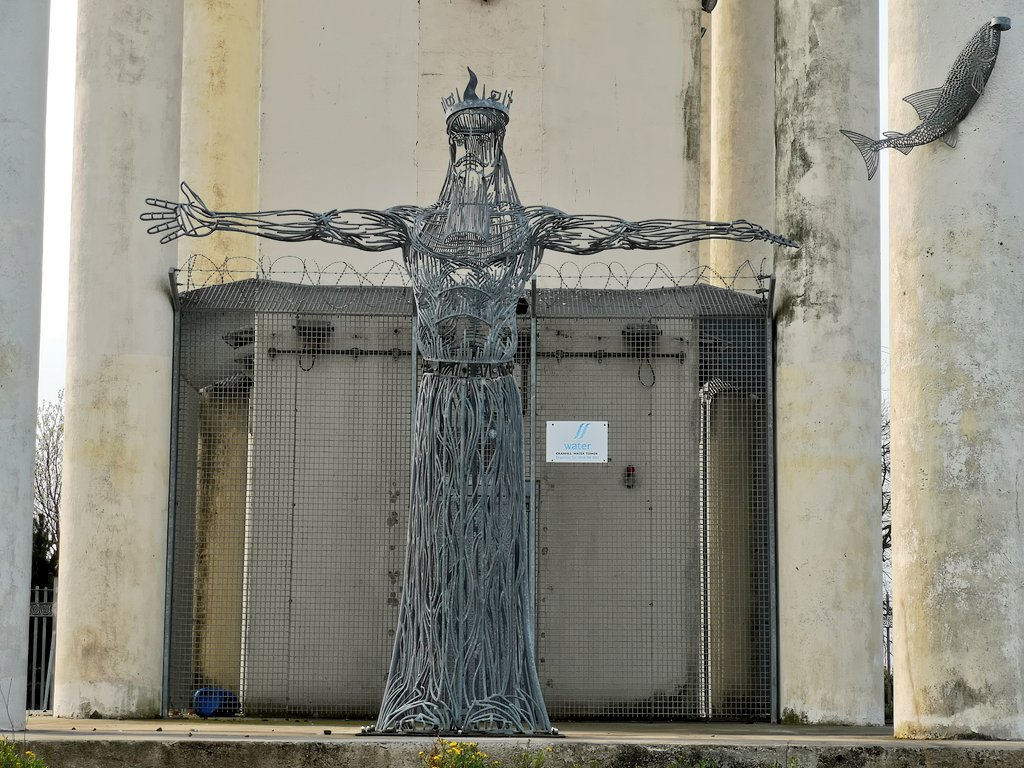 Poseidon and salmon, by Andy Scott, at Cranhill water tower

Garthamlock and Craigend Water Towers
The largest and second largest water towers in Britain stand together at Jerviston Road in Garthamlock. They were built between 1956 and 1958 to designs by
F.A. MacDonald and partners
(who also built the Dawsholm gas works and the earlier Cranhill water tower). The Garthamlock water tower contains 1,000,000 gallons of water, pumped up to the tank from a feed from Loch Katrine. The height means it supplies the local housing estate using gravity. The reinforced concrete legs look quite spindly and insect-like, and its distinctive appearance makes it a very familiar sight on the Glasgow skyline. Between 1999 and 2003, like several other water towers in the city, it was illuminated as part of an arts project.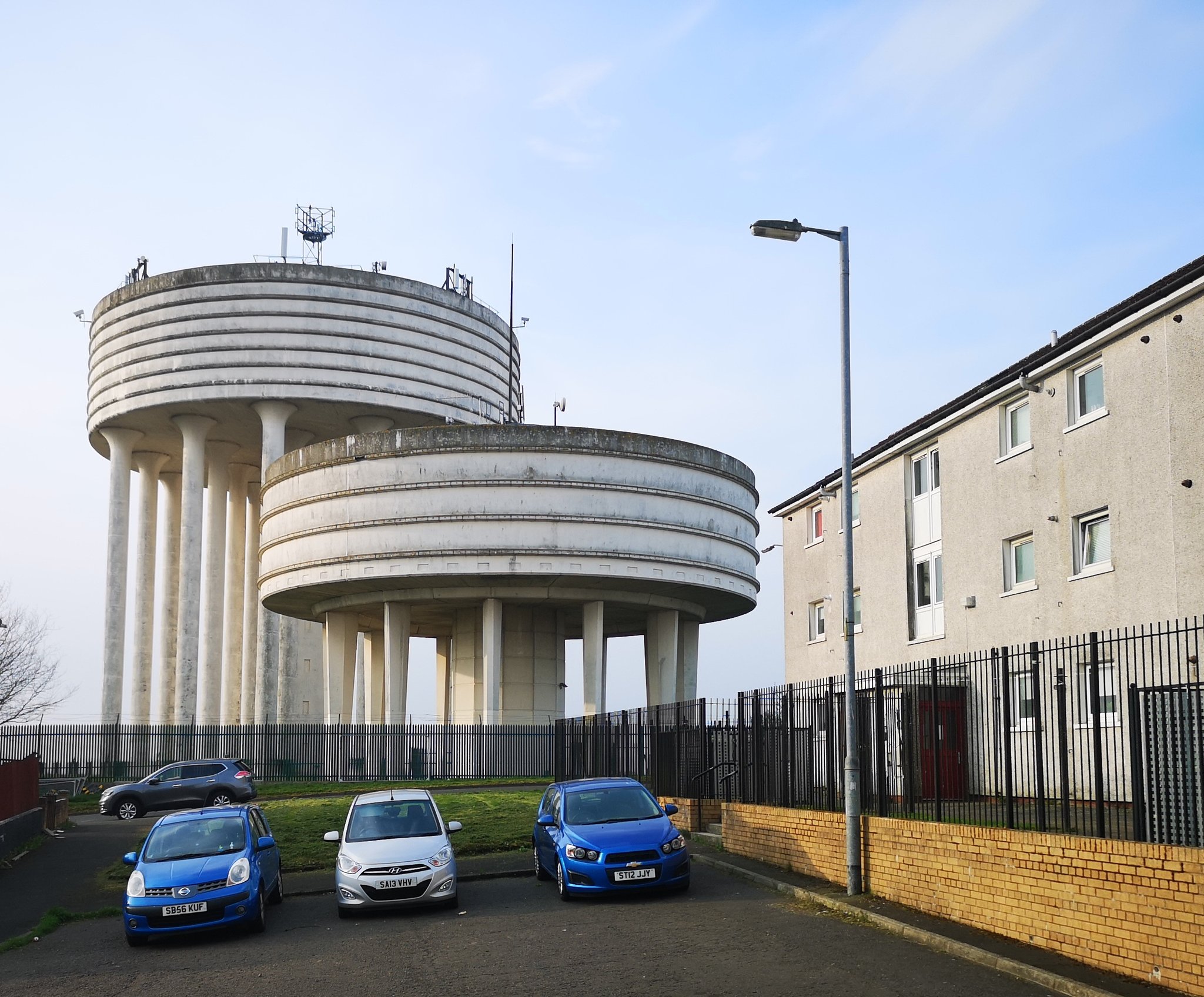 Craigend and Garthamlock water towers, Glasgow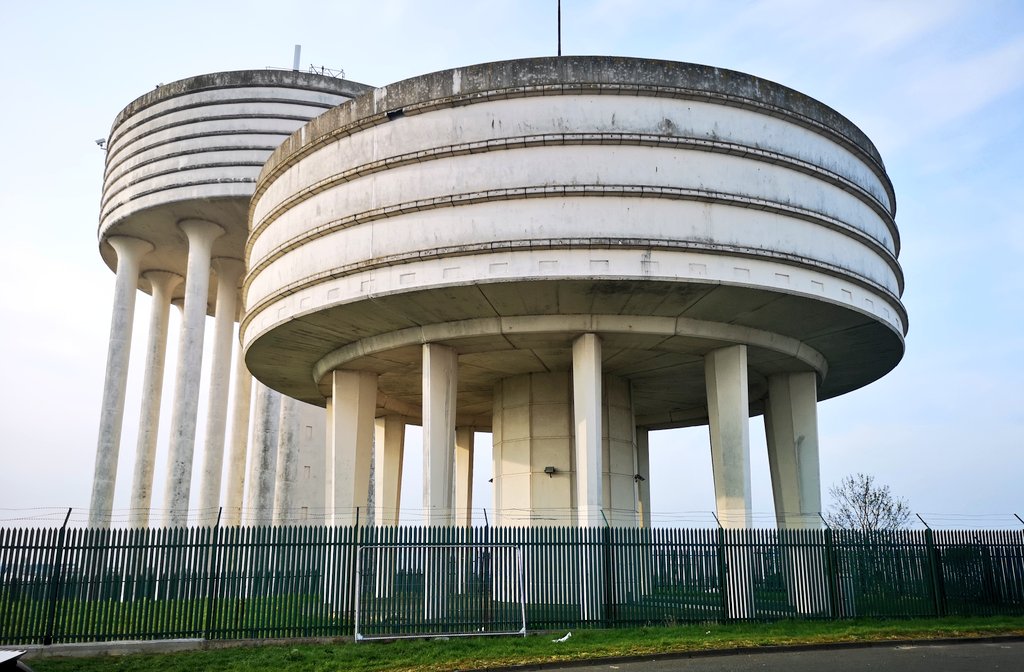 Craigend and Garthamlock water towers, Glasgow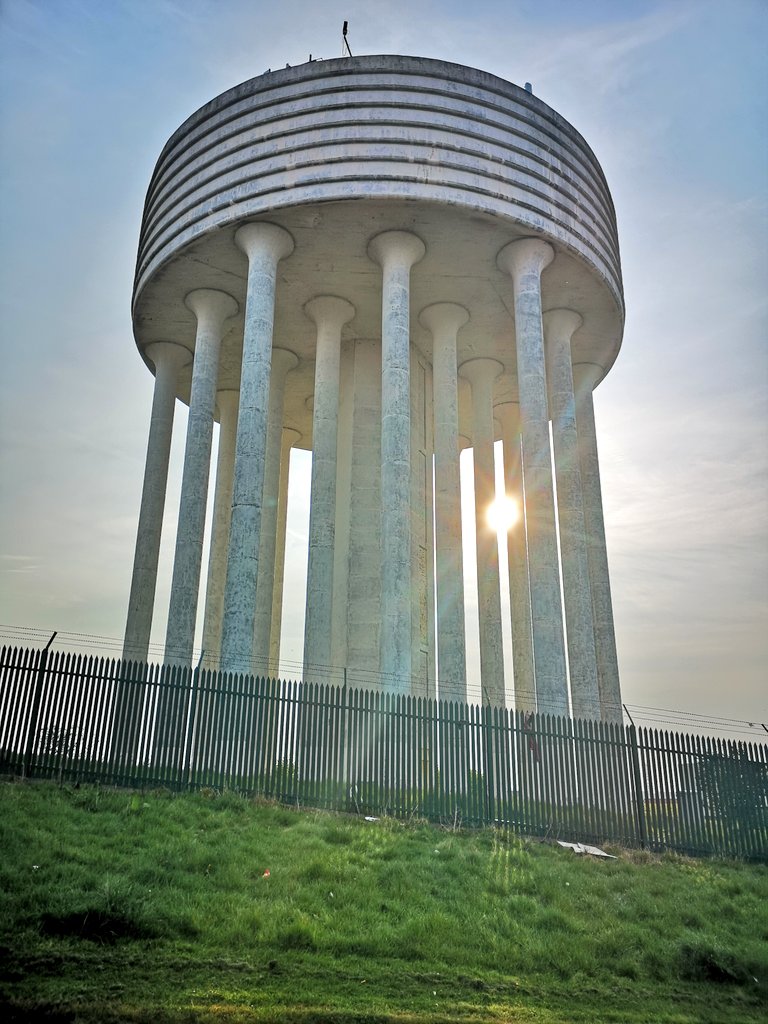 Garthamlock water tower, Glasgow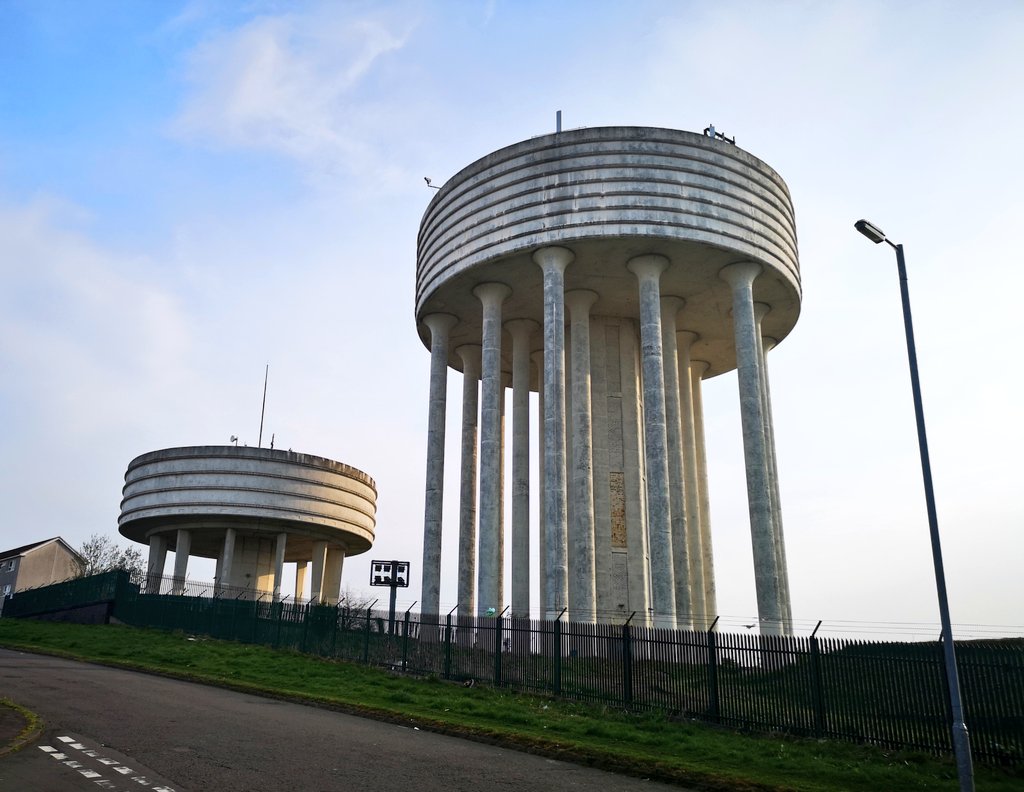 Craigend and Garthamlock water towers, Glasgow
Bishopbriggs (or Bearyards) Water Tower
Just off Boclair Road, on Wester Cleddens Road in Bishopbriggs sits Bearyards Water Tower. This distinctive concrete cylindrical water tower was built by Drummond Lithgow and company in 1959 to familiar designs from F.A. MacDonald and partners. 80 feet in height it contains 600,000 gallons of water.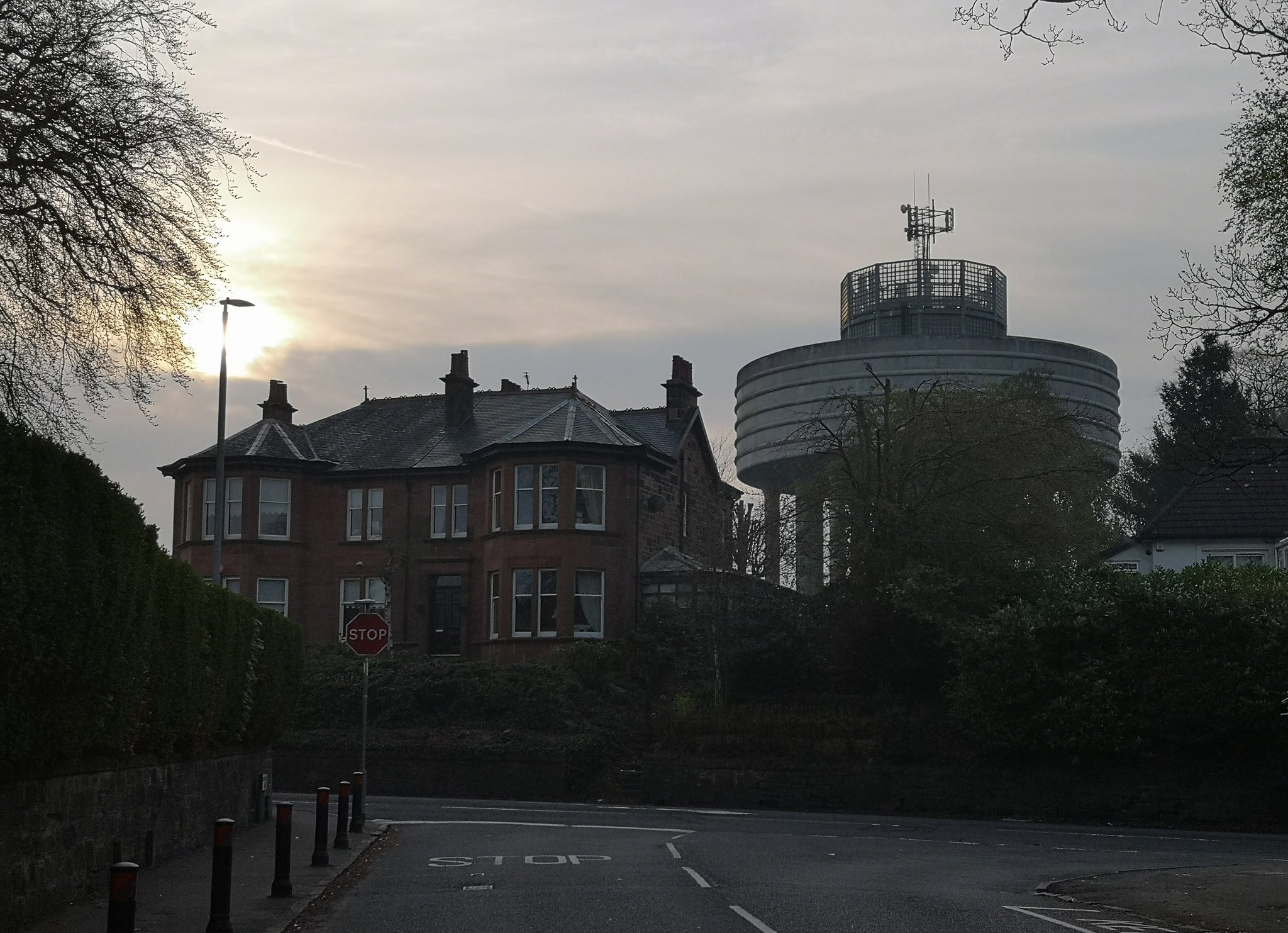 Bishopbriggs water tower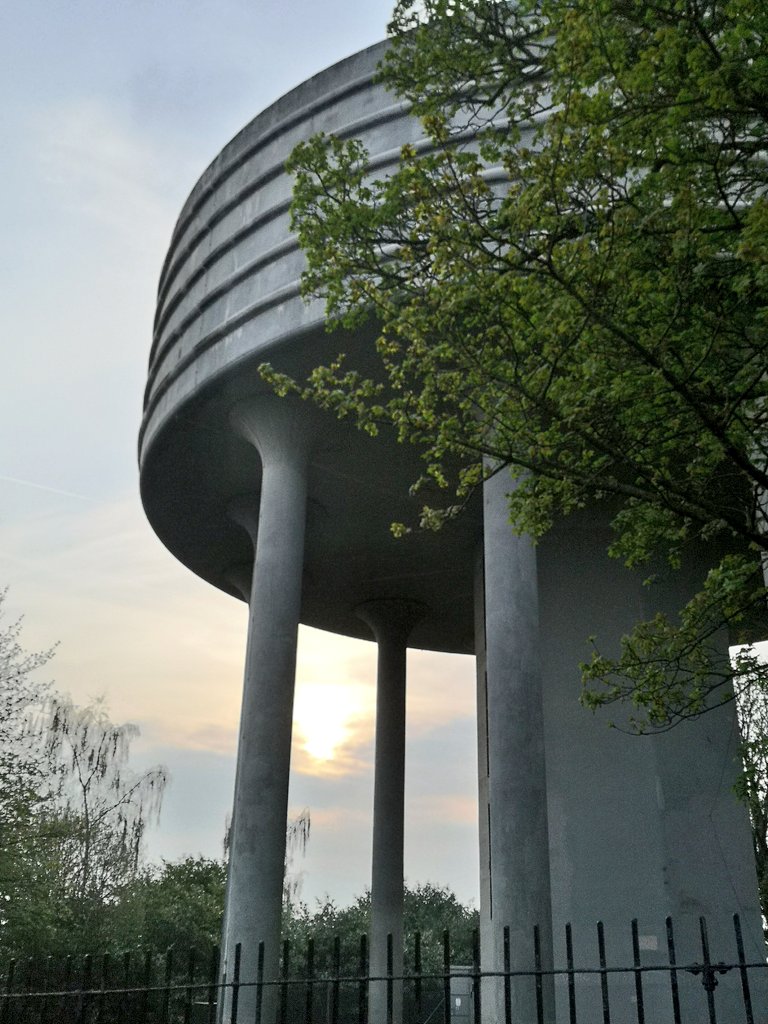 Bishopbriggs water tower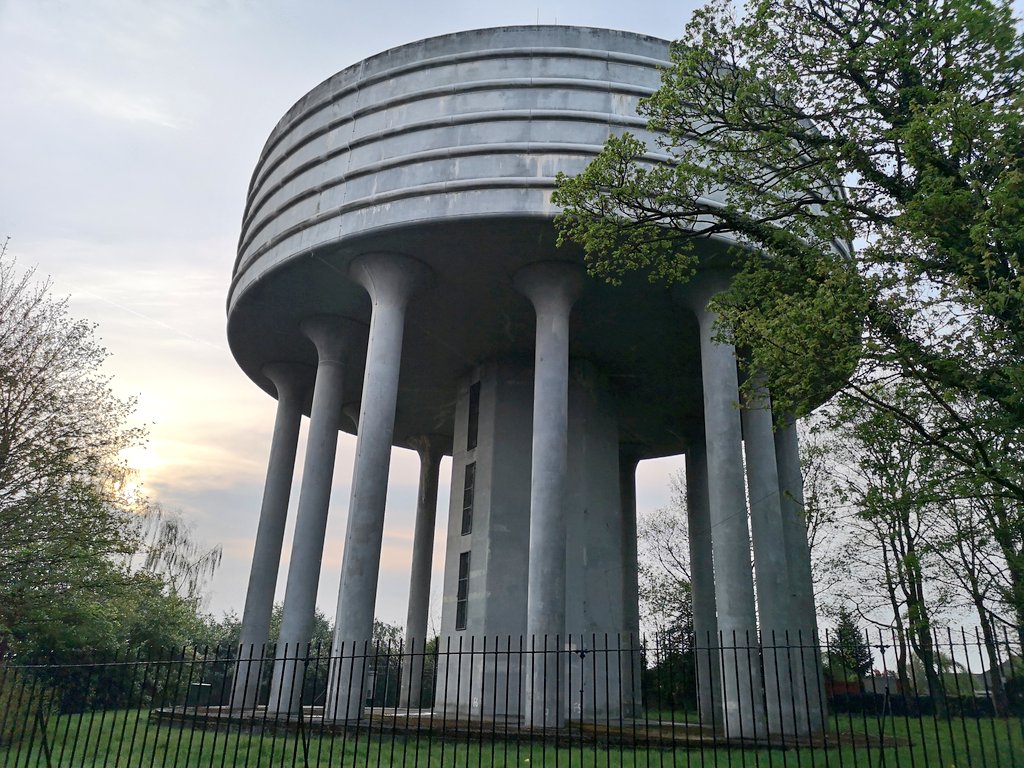 Bishopbriggs water tower
Drumchapel Water Tower
A familiar sight to anyone living in Drumchapel, or driving into Glasgow along Great Western Road, the Drumchapel Water Tower sits on a hill beside Kells Place. Appropriately the water tower up the Drum, has smoother lines than other water towers in and around Glasgow, almost like...eh, a drum, you might say. (Sorry). The empty land around it has several fine pigeon lofts sited there.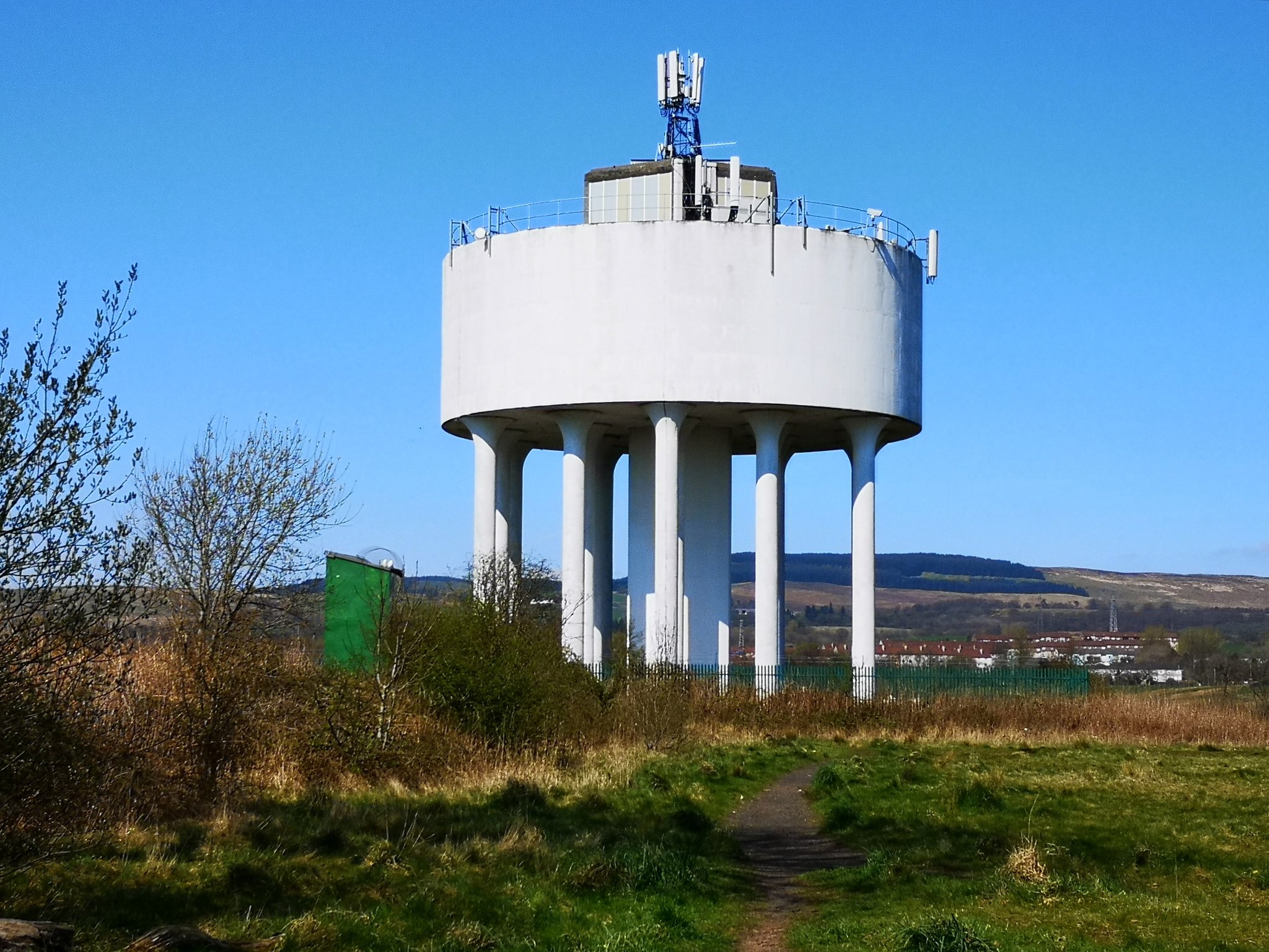 Drumchapel water tower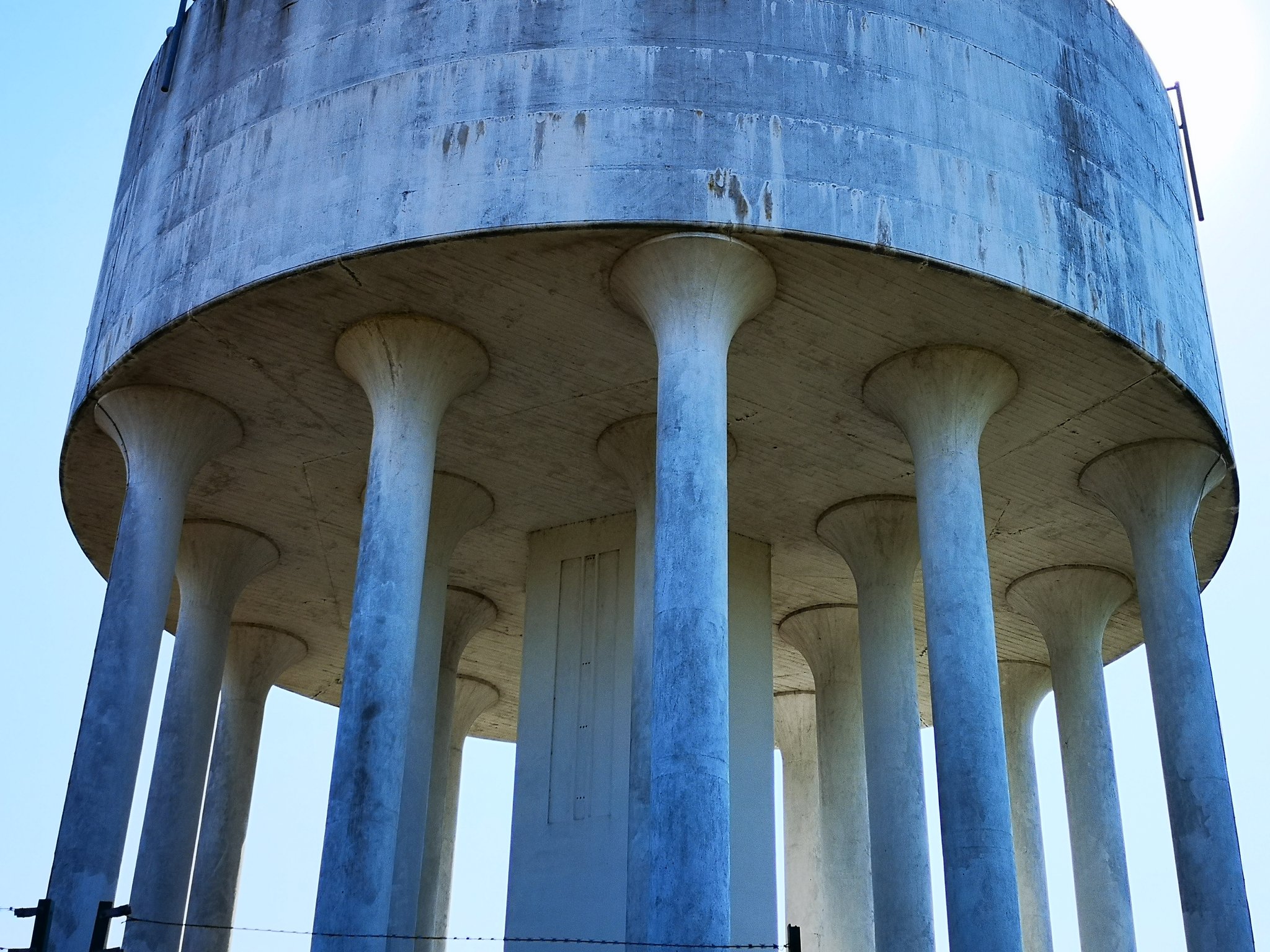 Drumchapel water tower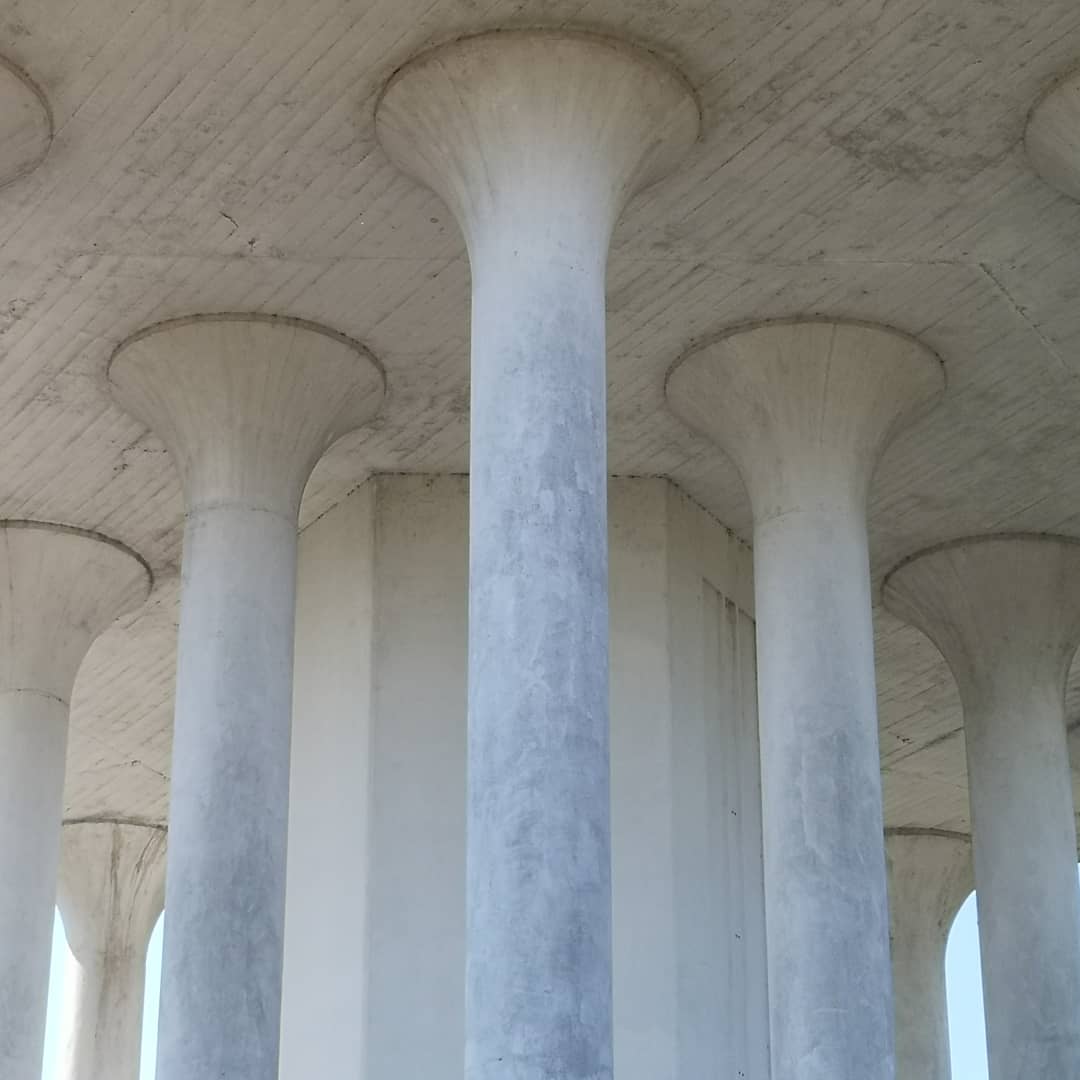 Drumchapel water tower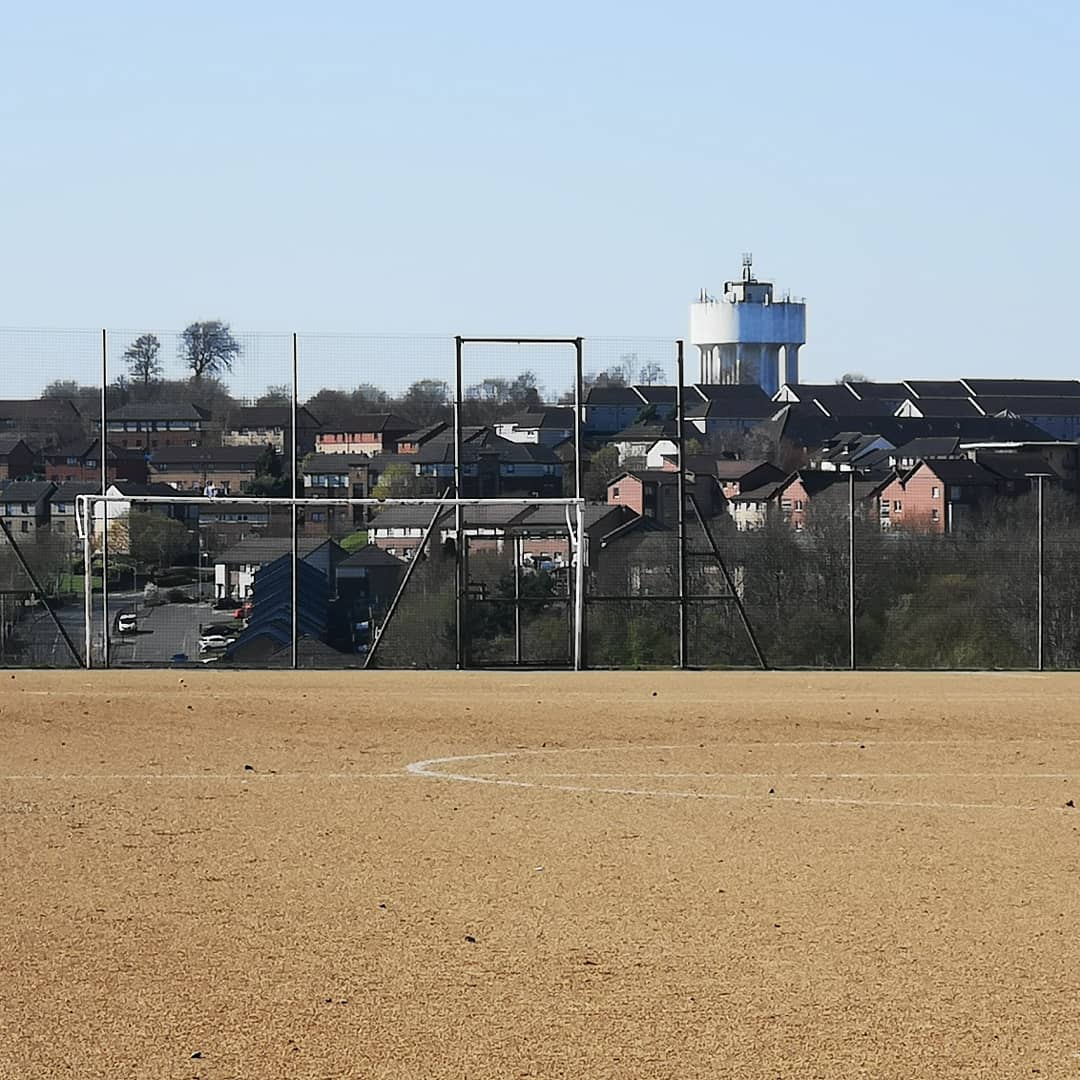 Water tower viewed from the red blaes football pitches of Drumchapel High School
Auchinairn Water Tower
As it is at the top of a hill, the Auchinairmn water tower is a bit harder to find on it's shorter stilts. It is hidden behind the Campsie Pub on Woodhill Road. It has more the feel of a 1960s service station restaurant, one which was designed to look futuristic but ended up smelling of cabbage and becoming quickly dated.
Auchinairn water tower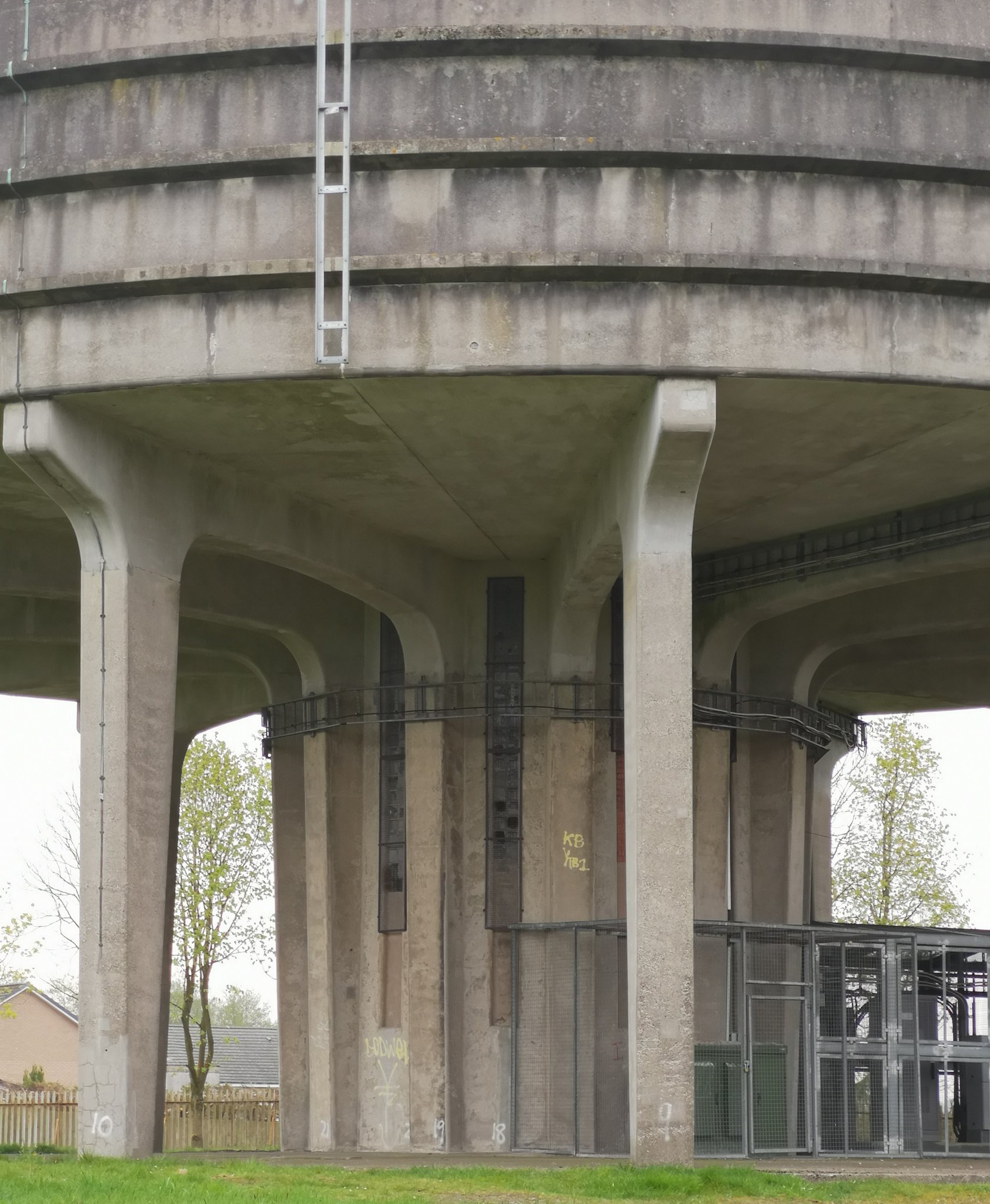 Auchinairn water tower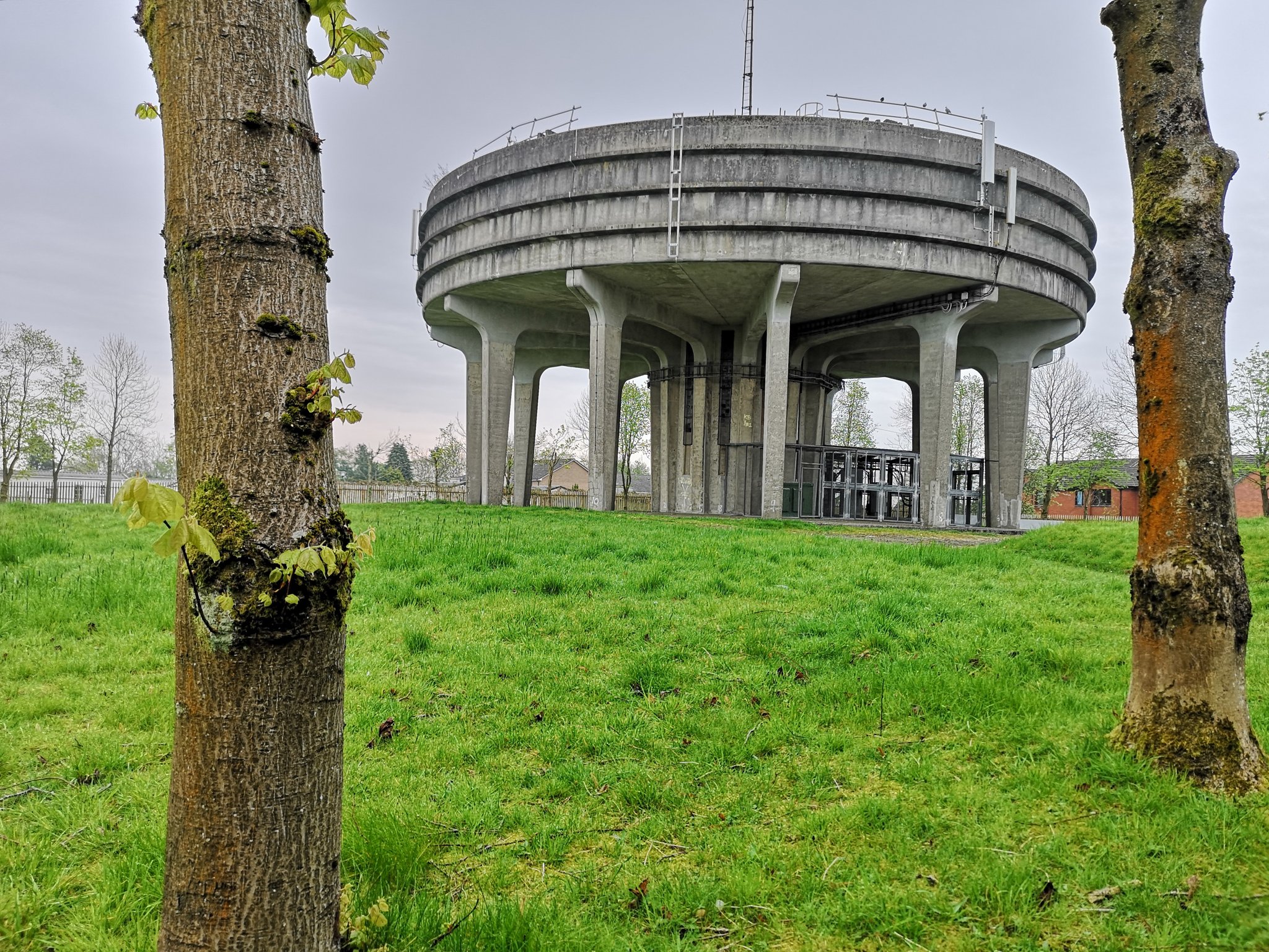 Auchinairn water tower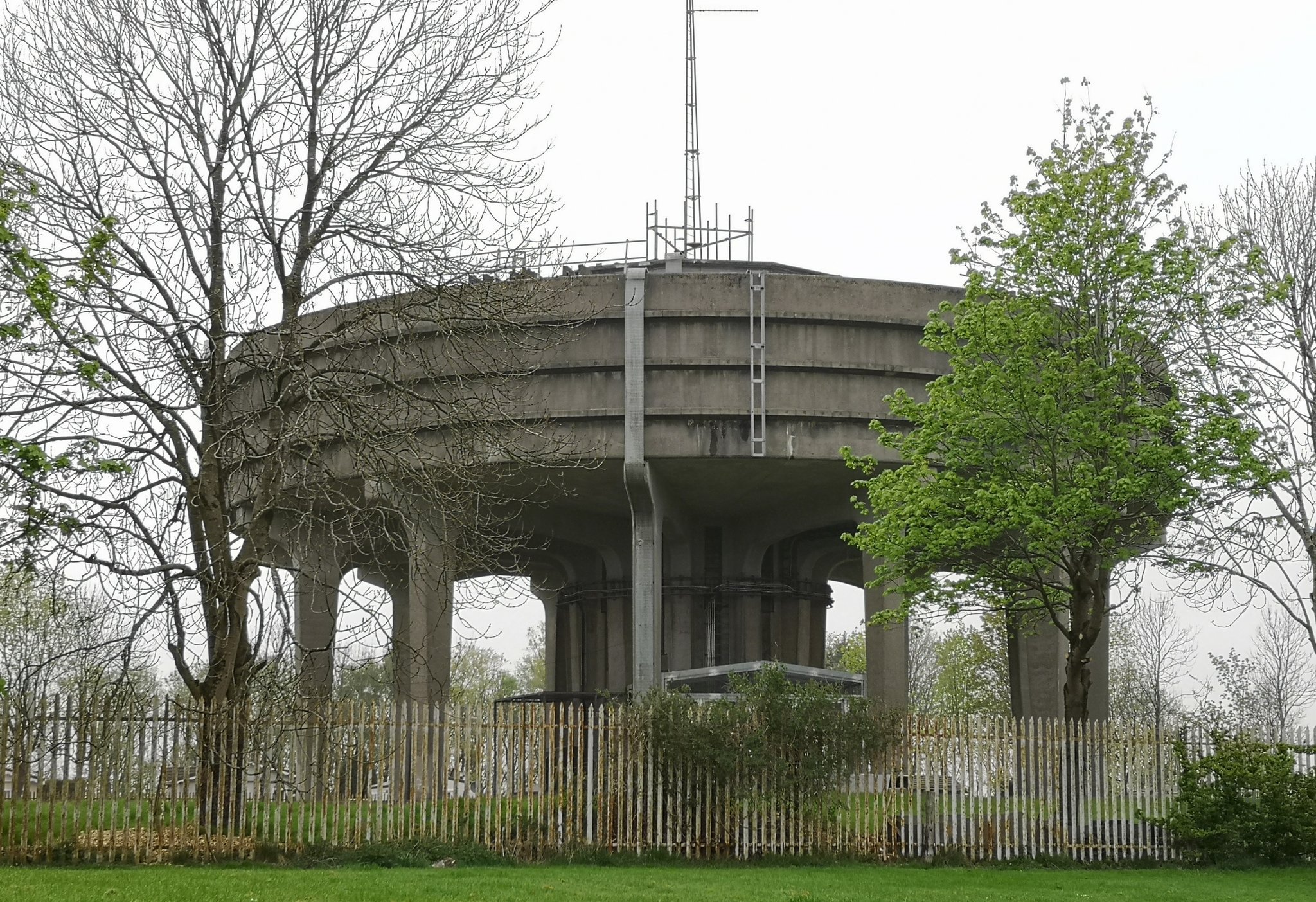 Auchinairn water tower
East Kilbride Water Tower, Greenhills
I was advised that there is also a water tower in Whitehills in East Kilbride, but I couldn't find it, and in fact once I had found the
Alistair McCoist Complex
in Whitehills I stopped looking, shocked at seeing the words "Alistair McCoist" and "Complex" in the same phrase. The Greenhills Water Tower sits on Beech Grove. Unlike the other ones I came across, it is not all fenced in, clearly a reflection of the less anti-social behaviour that our new town neighbours exhibit.
Greenhills water tower, East Kilbride
Greenhills water tower, East Kilbride
Greenhills water tower, East Kilbride
Tannochside Water Tower, Uddingston
In trying to pin down water towers in and around Glasgow, the question starts to become "How far away does it still count?" So I drew a line at Uddingston as again it's a tower you can catch sight of on your way into Glasgow. There are also water towers still standing in Motherwell and Cumbernauld, but I will leave them for someone else. Hovering above a Scotmid supermarket on Aikenhead Road the Tannochside water tower is similar to the larger one at Garthamlock. Like many of them, it is a functional thing where a bit of thought has gone into the design, resulting in a huge lump of concrete carrying tons of water, looming over people's back gardens but managing to look light on its spindly legs.
Tannochside water tower
Tannochside water tower
Tannochside water tower
City Centre Water Tower Designed by Charles Rennie Mackintosh - The Lighthouse
And finally The Lighthouse, a Glasgow water tower in the city centre that you can forget is a water tower. The inside has been stripped out and you can ascend it on a spiral staircase to get one of the best views over Glasgow, but the Mackintosh tower at
The Lighthouse
was originally a water tower which he worked into one of his earliest designs. Now housing Scotland's Centre for Designs and Architecture the Lighthouse building was
Charles Rennie Mackintosh
's first public commission. Dating from 1895, it was built to house the
Herald newspaper
. Mackintosh added an 8000 gallon water tower to his design for fire protection due to all the flammable materials that would be in the building. (Thinking about fire protection in a Mackintosh building? There's surely a lesson there.)
Water tower of The Lighthouse building, Glasgow city centre, as viewed from the multi-storey car park across Mitchell Lane
Staircase up the Lighthouse water tower
And Remembering Those No Longer With Us
As water supply systems change many water towers in Glasgow have become redundant, and vanished in recent years. Here are a few that people may remember, but which are now demolished.
Milton water tower stood from 1949 at the top of a hill in Milton, and was intentionally designed to be functional and an attractive focal point with seating and a garden at the base. At 55 feet in height it held 24,000 gallons of water in a 21 foot deep tank.


Milton water tower 1949, now demolished.
Cochno Hill above Faifley has lovely views over Glasgow and the Clyde. Until 2015 an unusual water tower stood there at the Cochno water plant, a tower which could be spotted from all around Clydebank. As it is still present in satellite shots on Google maps, I went up expecting to find it still there but there are now new houses and an nursing home being built on the site and the tower was demolished in October 2015.
Cochno water tower - now demolished
The new Cochno water treatment works, to the east of the older works on current Google maps
Cochno in 2019, the water tower now gone
Cowglen
near Pollok shopping centre has also lost its water tower in the past couple of years to development of the site for housing. This tower was visible from Barrhead Road and from the M77 behind the concrete National Savings and Investment bank building (NSI) at Cowglen. My granny worked here for years, and I hadn't realised that it had been
demolished (in February 2017)
until I went out looking for the water tower last week. The water tower was actually supplying water to
Cowglen Hospital
, which operated here from 1931 until 2000. The "redundant water tower" can be seen in the Glasgow City Council 2011 plans to redevelop the site. Again it was an unusual looking one, smaller and heavy on the functionality.
2011 Glasgow City Council plans for Cowglen redevelopment
"redundant water tower" at Cowglen before demolition
Nearby in Pollok was a large, rectangular water tower which has now made way for a housing development. At the top of the hill in Crookston Forest (or Stirling Maxwell Forest Park) off Lyoncross Road this had been lying derelict for many years, a regular haunt for the local youths.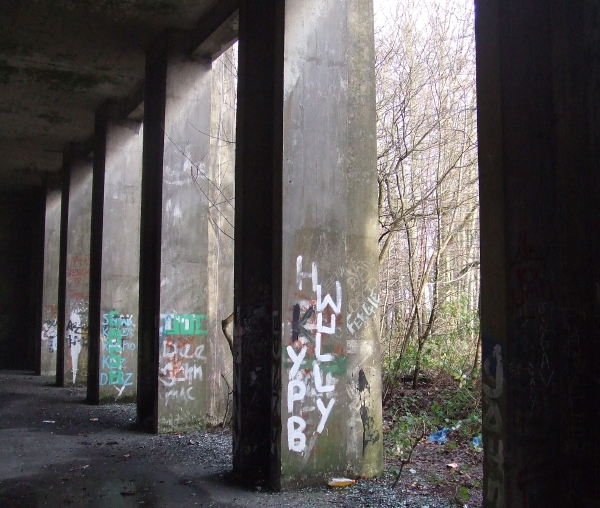 Pollok water tower 2007 - now demolished
Pollok water tower 10 years ago - now demolished
Springburn
had a similar looking large, rectangular water tower, which resembles the Parthenon on aerial photographs from the 1950s. It was located in Springburn Park and the concrete foundations where it stood can still be seen.
Though now underground, the Cockmuir Reservoirs in Springburn Park still store 1,000,000 litres of water to supply the local area.
Springburn water tower, behind the old cricket pavilion in Springburn Park, demolished in 1978
Again trawling through the aerial photographs on the
Britain from above website
you can find a water tower that used to stand over the houses of
Ruchill.
Lying between Leighton Street and Curzon Street in Ruchill it can be seen above the back gardens between 45 and 47 Leighton Street, near to the golf course..
Ruchill 1953
There were also water towers, now demolished, in Queenslie, Preisthill (in fact two towers here) and yet another in Crookston ( where Markdow Drive now sits - demolished in 1998).
Those were the only ones that I could think of or find. I would be happy to hear about any that I have missed, past or present. The water towers are one of those things you maybe don't notice until you start looking.