Live Review: Bruce Springsteen - The River Tour. Hampden Park, Glasgow. June 2016
As a long time fan of Bruce Springsteen I would enjoy seeing him perform two hours of Christmas Carols but
The River
, his double album released 35 years ago, contains some of my all-time favourite songs. So I was delighted to find him bringing his "The River" tour to Glasgow. When the tour started in America, on stage Springsteen and the E Street Band worked their way sequentially through the twenty tracks of the album but, as is his wont, the performances are evolving and changing every night.
In Glasgow, as he came onto the Hampden stage at 6.45pm under a glorious sunny sky, he opened with the song I had been singing all day in anticipation of the concert, "
Waitin' On A Sunny Day
" (from 2002 album
The Rising
). Right from the off he was down at the front, working the crowd and soon dragged a 10 year old fan up onto the stage to sing along with him. She gave a spectacularly self-confident rendition of the song before giving him a hug and getting back down into the crowd.
Keeping the upbeat mood he went into "
Spirit In The Night
" from the 1973 album
Greetings From Ashbury Park, NJ
, but which I first knew as the B-side to a 7 inch version of
Born To Run
that I have. This single was one of many that I bought from a rack in the newsagent across the road from my granny's house. These were old cast-offs from jukeboxes with the large hole in the middle, but often strange double-A side combinations. Like many people I worked my way backwards through Springsteen's catalogue, as I was only 2 years old when he released this album. My mother had bought
Born In The USA
when it was released in 1985
,
which were the first Springsteen songs that I heard. Touring the UK in 1985 he gave a donation to help the striking miners that year, which further endeared him to me. At that time I was making my first trips to record shops and started picking up second hand copies of his earlier albums.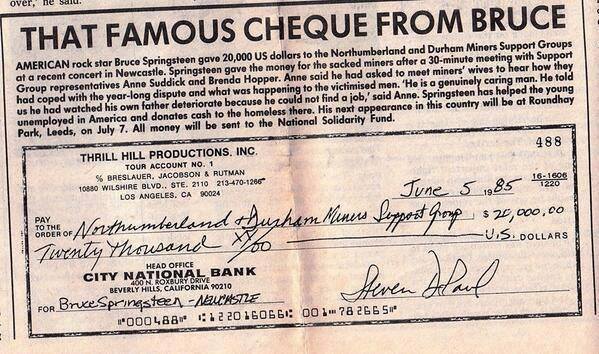 In these days of Amazon and music downloads, record shops are few and far between. In the 1980s there were plenty of places to browse through racks and shelves of records, not just my granny's newsagent. I would spend many a Saturday starting at Dumbarton Road and working my way up to Great Western Road with a couple of friends, looking into umpteen record shops on the way. The first stop when I got off the number 9 bus in Partick was West End Records on Dumbarton Road. They also had a branch in Clydebank Shopping Centre and sold a lot of record company excess stock, often unfortunately with a punch hole clipped in the corner of the cover.
West End Records, Dumbarton Road Glasgow, not long before the whole block was demolished
After taking ownership of my mum's copy of
Born In The USA
it was in this shop that I picked up Springsteen's breakthrough album
Born To Run
from 1975, and later on progressed to
The River
. The River had come out in 1980 and was made by an artist caught between moody, downbeat storytelling songs and bright, rosy fist-pumping anthems. I didn't own many gatefold double albums then and spent many hours poring over the lyrics on the songs on it. The track
The River
was my favourite, but as a teenager I struggled to see why Mary and the singer in the song were so pessimistic and down about her getting pregnant and married at 19 years of age. 19, that was ancient! However, the image of this disillusioned pair dreamily thinking back to their teenage days of canoodling down by the river, wondering "
Is a dream a lie that don't come true, or is it something worse?
" appealed to me.
Bruce Springsteen and Steve Van Zandt
sing Two Hearts in Glasgow
In Hampden, four songs in we finally got to some songs from The River, the opening three tracks including Steve Van Zandt and Bruce duetting on
Two Hearts.
Drifting off of the setlist to take requests from the audience we got a storming performance of
Rosalita
and then
Sandy
from the 1973 album
The Wild, the Innocent and the E Street Shuffle.
This album of rambling storytelling songs I picked up in Realistic Records on Dowanhill Street. This second hand record shop opposite the Dowanhill Bar was where I found various gems over the years, including Big Country's
The Crossing
in all three sleeve colour variations and Eurythmics debut album
In The Garden
. Unless you got hold of the Guiness Book of Hit Singles it was harder to work out what albums and singles an artist actually had in the pre-internet age, so rummaging through record shops often turned up surprisng things.
Some of the Springsteen singles I've accumulated
In later years my amble northwards would divert from here to Music Mania at the bottom of Byres Road. Run by a Canadian with a dodgy moustache I picked up some complete rubbish like
Bangs and Crashes
by
Go West.
Then you could visit Woolworths if you were after chart singles, later Stephen Pastels record shop upstairs in John Smith's bookshop where Starbucks is now, before going into Echo nearer the top of Byres Road for more obscure stuff. The grumpy brothers that owned the shop (and also ran it as Listen in a previous incarnation) would always be happy to help. A wander up to Lost In Music in Ruthven Lane was good for older 7 inch singles and that is where I found Springsteen's
My Hometown/ Santa Claus is Coming To Town
classic disc.
Sad wee farewell letter from Lost In Music in Ruthven Lane
After three more tracks from
The River
, and an audience member's sign request for
Lonesome Day
, from the
The Rising
album, the music took a darker turn. Starting with
Death To My Hometown
from 2014's
Wrecking Ball
album before
American Skin (41 Shots)
and
Murder Incorporated
. These are two of my favourite Springsteen songs,
American Skin
in particular was a thrill to hear. Both are critical of gun violence in America, the former written in response to the police shooting in New York of an unarmed black man in 1999, killed when officers fired 41 shots at him.
Murder Incorporated
is about the normalisation of gun violence in society. Both songs are sadly more relevant to major problems in American society now, than even when they were written.
Taking requests from the audience we moved through
I'm Goin' Down
from
Born In The USA
to the excellent
Johnny 99
from 1982 album Nebraska (one of my favourite albums) this time sung with a lively country and western twang. Despite the persisting bright sunshine we were into the more gloomy tracks from
The River
that I enjoy, with the title track and then
Point Blank.
Late evening sunshine in Hampden Stadium, Glasgow
Other highlights for me in the main set were
Because the Night
, written by Springsteen in 1978 with Patti Smith and released by her as a single that year,
Thunder Road
from Born To Run and
Badlands
from 1978's
Darkness on the Edge of Town
.
A vigorous encore of barnstormers such as
Born In The USA, Born To Run
and the sad/happy
Glory Days
got the 55,000 crowd singing along to every song before a couple more audience members were plucked from the crowd to join him on stage in the Courtney Cox role for
Dancing In The Dark,
before
Tenth Avenue Freeze-Out
, which has now become a tribute to the absent Clarence Clements at Bruce Springsteen concerts.
As he did last time in Glasgow, he finished with The Isley Brothers song Shout, which got the crowd jumping and singing along, but I would have much rather had any one of a dozen Bruce Springsteen songs to send us home that we hadn't yet heard, rather than a song more associated with the teenage Lulu. Looking at the
setlist.fm
website, Bruce Springsteen has played this song 84 times in concerts. Which two bands do you think have performed it live more times than he has? (answers at the bottom of this page, Lulu not included as we are talking about the internet era here).
As the band left the stage we were sent home with a solo acoustic rendition from Springsteen of
This Hard Land
, taken from the
Tracks
album of unreleased tracks.
This was one of his best performances that I have seen, 34 songs in three and a half hours of non-stop music, holding a stadium crowd in the palm of his hand as usual. He is in no way running out of energy as the years go on, although with plans for a solo studio album next, this may be the last time for a while that he tours with the E Street Band. Tonight he ticked off about twenty of my favourite tracks, many of which I'd never seen live before, but as that still leaves me plenty more to try and catch next time he is in town.
There's plenty more music where that came from...
Q - Bruce Springsteen has performed "Shout" live in concert 84 times over the years according to setlist.fm. Which artists have sung it live more often?
A - Bon Jovi have sung it 214 times, and Green Day 221 times...apparently.
live review Bruce Springsteen Glasgow concert Hampden